2021 Super Lawyers Recognizes Attorneys from Hall Estill
October 21, 2021
Hall Estill, Oklahoma's leading law firm, with offices in Tulsa, Oklahoma City, Denver and Northwest Arkansas, announced 37 of its attorneys were selected by their peers for inclusion on the Super Lawyers annual list of the state's top attorneys. Of the attorneys selected, 13 attorneys were named as Rising Stars, a prestigious recognition for up-and-coming attorneys.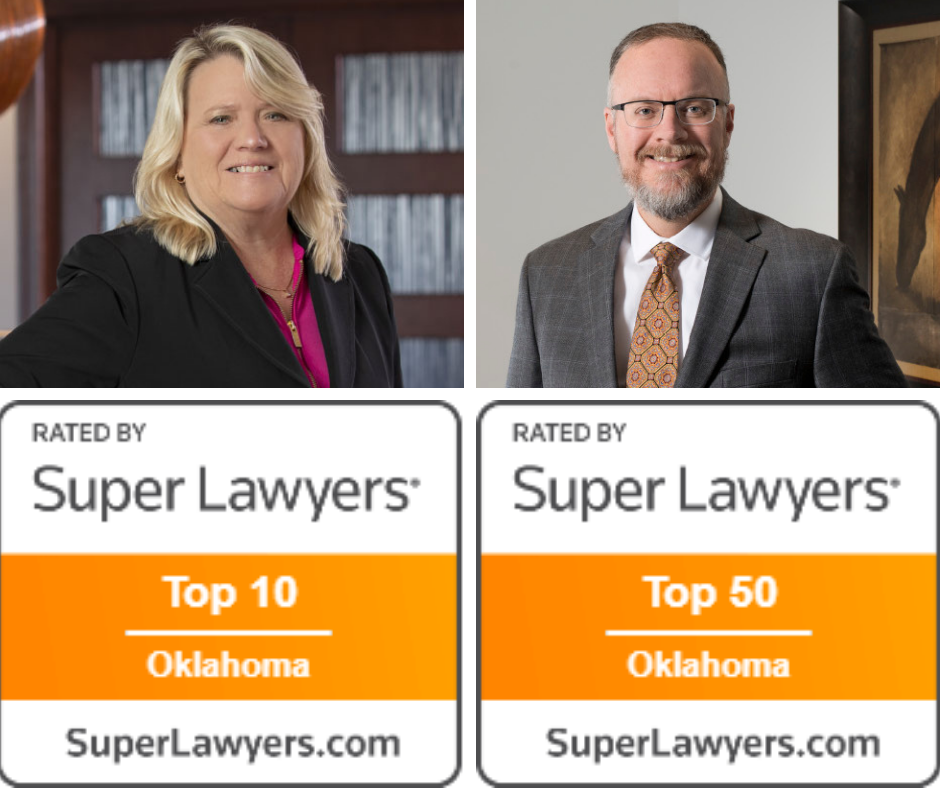 Of the group honored, two Hall Estill attorneys were recognized for additional excellence among their peers. Elaine R. Turner, shareholder and director, has been named a Top 25 Female Attorney in Oklahoma, as well as a Top 50 and Top 10 attorney in Oklahoma. James C. Milton, shareholder and director, has been named a Top 50 Attorney in Oklahoma.
"We're always proud of the commitment and service our attorneys provide to our clients and the community. Being acknowledged by their peers in this way is a true testament to our attorneys' level of expertise and skill," said Mike Cooke, managing partner for Hall Estill. "We are especially proud of Elaine and Jim for their additional recognition."
Super Lawyers has been recognized by bar associations and courts across the country for the legitimacy and rigor of its selection process. Attorneys are selected using a rigorous, multi-phase rating process including peer nominations and evaluations combined with third-party research. Each candidate is evaluated on 12 indicators of peer recognition and professional achievement, and the lawyers recognized represent no more than 5% of the lawyers in the state.
Launched in 1998, Rising Stars is a list that recognizes the top up-and-coming attorneys in the state. To qualify for this award, candidates must be 40 years old or younger or have been practicing for 10 years or less.
Hall Estill Super Lawyers
Bryan J. Nowlin, Business Litigation
D. K. (Ken) Williams, Jr., Energy & Natural Resources
Daniel R. Ketchum, II, Estate & Probate
Elaine R. Turner, Employment Litigation: Defense- also named a Top 25 Female Attorney in Oklahoma, a Top 50 Attorney in Oklahoma and a Top 10 Attorney in Oklahoma
J. Kevin Hayes, Energy & Natural Resources
James C. Milton, Estate & Trust Litigation - also named a Top 50 Attorney in Oklahoma
James D. Satrom, Energy & Resources
Jerrick L. lrby, Business Litigation
John M. Hickey, Construction Litigation
Jon Epstein, Media/Advertising
Larry G. Ball, Business Litigation
Mark Banner, Class Action
Michael D. Cooke, Mergers & Acquisitions
Michael E. Smith, Energy & Natural Resources
Michael T. Keester, Construction Litigation
Randall K. McCarthy, Intellectual Property
Richard A. Wagner, II, Family Law
Robert D. Nelon, Media/Advertising
Seth A. Day, General Litigation
Stephen W. Ray, Business/Corporate
Steven A. Broussard, Employment Litigation: Defense
Steven W. Soulé, Bankruptcy: Business
W. Deke Canada, Business/Corporate
William W. O'Connor, Business Litigation
Daniel V. Carsey, Business Litigation
Hall Estill Rising Stars
Christopher L. Carter, Real Estate
Jacqueline M. McCormick, Business Litigation
Kristen Pence Evans, Civil Litigation: Defense
Matthew R. Gile, Family Law
Natalie S. Sears, Family Law
Tami J. Hines, Business Litigation
Lindsay N. Kistler, Employment Litigation
Dawson A. Brotemarkle, Energy & Resources
Bryan R. Lynch, Business Litigation
Amanda M. Lowe, General Litigation
Lauren M. Marciano, Personal Injury General: Defense
Eric C. Money, Energy & Resources
Margo E. Shipley, Civil Litigation: Defense