Hall Estill Elects Hunter, O'Connor and Van De Wiele to Board; Dougherty to Executive Committee
June 15, 2020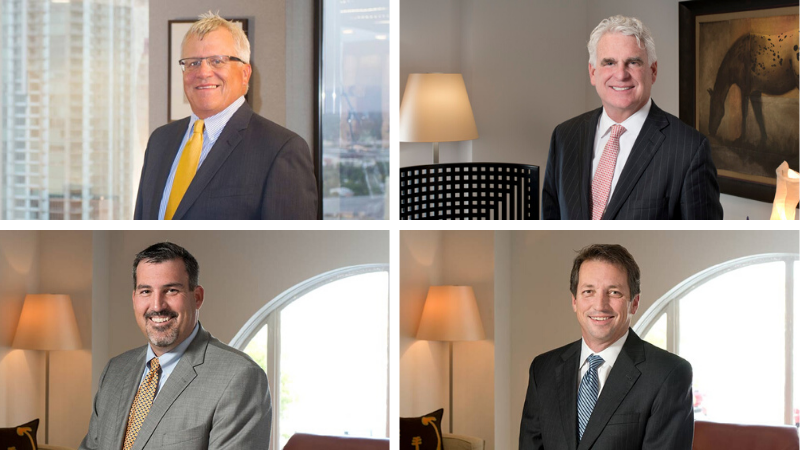 Hall Estill, a leading Southwest regional law firm, with offices in Tulsa, Oklahoma City, Denver and Northwest Arkansas, announces that A.M. "Kip" Hunter III, William W. O'Connor and Stuart E. Van De Wiele have been elected to the Board of Directors and Robert F. Dougherty to the Executive Committee.
"We congratulate our new board members and executive committee member," said Mike Cooke, managing partner for Hall Estill. "These elections are a testament to their hard work and dedication to their clients and the firm, and they will make great additions to our board of directors and executive committee."
Kip joined Hall Estill in 2016 after having a private practice and serving as general counsel of an energy company. His practice encompasses a broad spectrum of general corporate representation, including formation, finance, governance, securities and human resources. He earned his J.D. from the University of Denver Sturm College of Law, where he was a Barrister's Cup Fellow and an Edith Turley Bane Scholar.
Bill concentrates his practice in the litigation arena, specifically complex litigation in energy, pharmaceutical and medical device, employment, securities, antitrust, class action, intellectual property, construction, and tort and insurance law. He earned his J.D. from the University of Oklahoma College of Law. Bill also serves on the boards of the William K. Warren Foundation, the Oklahoma Center for Community and Justice, and Special Olympics Oklahoma.
Stuart focuses his practice in the commercial law field, primarily in real estate acquisitions and development, oil and gas midstream construction projects, lending transactions, leasing, real estate zoning issues, and day-to-day contractual matters. He earned his J.D. from the University of Tulsa College of Law with highest honors.
Rob has built his career in the commercial, corporate and business transactional arena, including representation of oil and gas related, telecommunications and other companies in a broad range of business transactions including real estate, construction, procurement and product sales, marketing and distribution matters. He earned his J.D. from the University of Oklahoma College of Law and his LL.M. in Taxation from Emory University School of Law. In addition to his new role on the Executive Committee, Rob continues to serve as a member of the firm's Board of Directors.