Hall Estill Recognized For Excellence for the Fourteenth Consecutive Year By Chambers USA
June 7, 2021
The firm continued its streak of excellence across practice areas and was ranked, along with 16 attorneys in the 2021 edition of Chambers USA; Hall Estill attorney also ranked in Chambers High Net Worth Guide.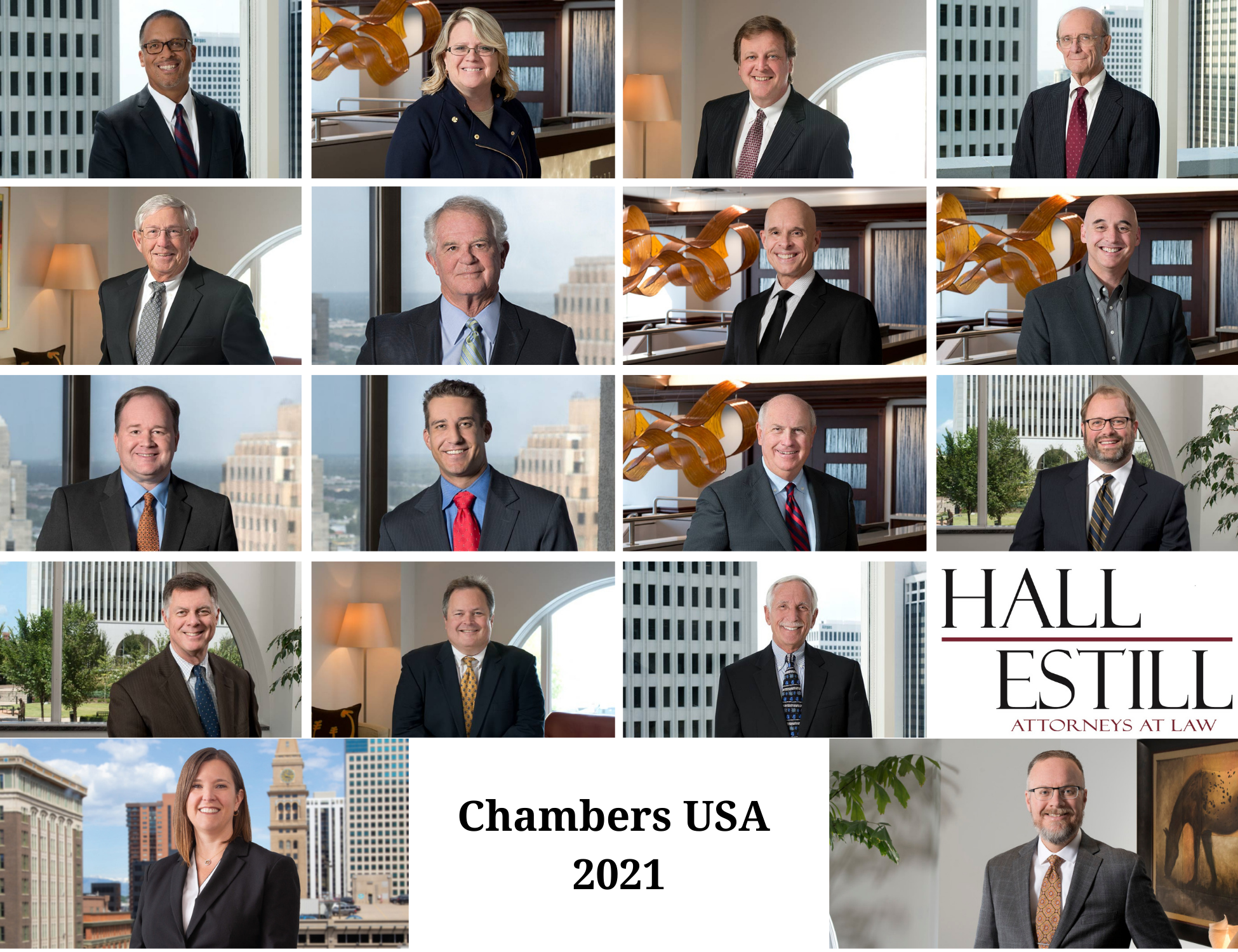 Hall Estill, Oklahoma's leading law firm with offices in Tulsa, Oklahoma City, Denver and Northwest Arkansas, once again received high marks from the respected law firm and attorney ranking guide Chambers USA. At total of 14 Hall Estill lawyers were recognized for excellence in nine practice areas, while one attorney was ranked in the 2021 Chambers High Net Worth Guide.
Chambers USA annually ranks law firms and individual attorneys across the country for their legal knowledge and excellence while the Chambers High Net Worth Guide, produced by Chambers and Partners, ranks the top lawyers and law firms for international private wealth and are based on in-depth analysis conducted by Chambers.
For the 14th straight year, Hall Estill was ranked in Oklahoma in the following practice areas: Corporate/Commercial, Energy and Natural Resources, General Commercial Litigation, Intellectual Property, Labor and Employment, and Real Estate.
"Our continued recognition through the years is a testament to the level of expertise we have at the firm," said Mike Cooke, managing partner for Hall Estill. "Our attorneys are committed to providing exceptional counsel for our clients and I'm proud of the work they are doing across the country."
Individual Hall Estill attorneys recognized for excellence in Oklahoma include Steven A. Broussard and Elaine R. Turner for Labor and Employment; Mark Banner, James C.T. Hardwick, J. Kevin Hayes and Michael E. Smith for Energy and Natural Resources; Randall K. McCarthy, and Michael H. Smith for Intellectual Property; Robert D. Nelon for General Commercial Litigation; Gregory W. Alberty for Real Estate; Stephen W. Ray for Corporate/Commercial; and Timothy S. Posey for Native American Law.
In addition, S. Richard Levin was recognized in Arkansas for Real Estate while James C. Milton was ranked in the Chambers High Net Worth Guide.