Michael E. Smith: GE plans Show Continuing Strength of Oklahoma Energy Sector
December 29, 2013
By: Michael E. Smith
The Oklahoman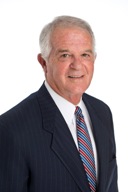 The decision by General Electric to build a $110 million, 95,000-square-foot oil and gas technology research facility near downtown Oklahoma City, announced earlier this month, demonstrates the vibrancy and resiliency of the state energy industry and enhances its reputation as a leading player in the energy arena.
As GE recognized, Oklahoma has been at the forefront of the nation's energy industry for more than a century. By the time Oklahoma achieved statehood in 1907, Tulsa had already become known as the "Oil Capital of the World." Oil-related investments fueled much of the state's early economy.
In subsequent decades, Oklahoma has developed a track record of pioneering new and innovative energy technologies. The cutting-edge horizontal drilling and hydraulic fracturing techniques championed by Oklahoma-based energy companies helped unlock vast energy reserves from shale-rock formations, resulting in skyrocketing domestic oil production and putting the United States on the cusp of energy independence for the first time in decades. As a result, the International Energy Agency recently predicted that the United States will become the world's biggest oil producer in 2015.
These days, the Oklahoma economy runs on energy, just as it always has. An Oklahoma Energy Resources Board report found that in addition to employing more than 340,000 people statewide, the combined direct and indirect impact of oil and natural gas industry spending added $61 billion to the state economy in 2011. This amount is close to pre-recession levels of $68 billion in 2007.
When federal offshore areas are excluded, Oklahoma was the nation's fifth-largest producer of crude oil in 2011, according to U.S. Energy Information Administration figures, and the state continues to be one of the top in natural gas production. At the same time, advances in technology are creating efficiencies in the energy industry throughout the state. According to a recent report by Oklahoma State University economist Dan Rickman, the state's oil and gas production is up even as the rig count is down.
GE's significant commitment to Oklahoma is further evidence of the strength of our energy sector and reflects the fact that the state continues to be a major industry hub. The research and development conducted at the GE Oil and Gas Technology Center will help ensure that Oklahoma remains on the cutting edge of energy-related technology, resulting in more industry jobs and having a positive economic impact on all Oklahomans.
For the thousands of us who proudly serve our state's energy industry, GE's presence significantly adds to the opportunities we will have to continue our service and contribute to this vital industry for years to come.
Smith is the Oklahoma City managing partner for Hall Estill and heads the firm's Oklahoma City energy practice.